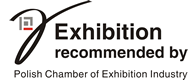 10.05.2017
Every single time the Industrial Subcontracting Exhibition SUBCONTRACTING (6-9 June 2017) is getting closer and I get down to organizing matchmaking meetings Subcontracting ITM Meetings two thoughts come to my head. Great, again I will feel satisfaction once the offers and needs of specific companies are matched. On the other hand, however, I also feel I involve quite many businessmen in a few-hour-long race between meetings over several dozen numbered tables. In reality, though, how come those serious, busy businessmen and engineers manage to use their time at the matchmaking meetings so effectively? - says Barbara Kamińska, Subcontracting ITM Meetings Coordinator
03.05.2017
From 6 to 9 June 2017 the Poznań International Fair will house the 6th edition of the Industrial Subcontracting Exhibition SUBCONTRACTING in its exhibition hall 7. The exhibition is a unique event for the whole industry in Poland, which gathers representatives of many domestic and foreign production companies. The exhibitors are companies offering subcontracting services, whereas the visitors are producers searching for new service suppliers.
27.04.2017
Take part in Subcontracting Exhibition and in Subcontracting ITM Meetings - it's a complete offer for subcontractors and companies operating in metal processing industry, due date 6th to 9th of June 2017 in Poznań, Poland.
More news
---

SUBCONTRACTING: Next edition: 6-9.06.2017
.