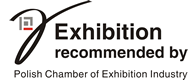 30.11.2017
The SUBCONTRACTING and ITM Poland project teams took an active part in the 24th Polish-German-Czech Forum of Business Cooperation, which took place on 29th November 2017 in Szklarska Poręba.
28.11.2017
The annual conference which summarizes the activities of the Enterprise Europe Network was held 20th-22nd November 2017 in Tallinn. It summed up the results of the events held by the EEN in 2016. Out of 324 events organized by EEN centers, seven best events were chosen and the methods of organizing the awarded events were given as best practices to be followed - among them were Subcontracting Exhibition along with Subcontracting ITM Meetings!
30.10.2017
We are presenting you with the latest interactive issue of Poznań Fair Magazine "Calendar of trade fair in 2018". It is absolutely unique publication onto polish market! We invite you to click!
More news
---

SUBCONTRACTING: Next edition: 5-8.06.2018
.