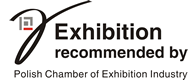 09.03.2017
In the period from 7th to 10th March 2017 in Leipzig in Germany take place 14-th edition of the International subcontracting fair for parts, components, modules and technologies Zuliefermesse (Internationale Zuliefermesse für Teile, Komponenten, Module und Technologien) and the 16-th edition of International trade fair for machine tools, manufacturing and automation Intec (Internationale Fachmesse für Werkzeugmaschinen, Fertigungs- und Automatisierungstechnik). Both events represent for Polish companies important meeting place and cooperation on the international arena. It couldn't be missed also by the organizers of the Subcontracting Fair!
28.02.2017
Find Your business partners at the SUBCONTRACTING ITM MEETINGS 2017. The meetings will be held on the second and third day of trade fairs SUBCONTRACTING, ITM POLSKA, 3D SOLUTIONS, MODERNLOG, 7-8 June 2017.
27.01.2017
Deadline for applications for Subcontracting Fair it's come up! Get to know the reasons why you should take it now!
More news
---

SUBCONTRACTING: Next edition: 6-9.06.2017
.