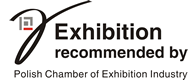 08.06.2018
As the four-day-long trade show was featured with plenty of events and business meetings, plenty of professional visitors came to visit the exhibition halls.
07.06.2018
We invite you to look at the photo gallery: ITM Poland, Modernlog, Subcontracting, 3D Solutions and FOCAST
06.06.2018
Co-opetition, i.e. cooperation and competition, is the key word that best reflects the character of the Subcontracting exhibition. The purpose of the event is to show the potential of companies operating in the industry. It is here that subcontractors from Poland and abroad present their capabilities. By participating in Subcontracting, a manufacturing company can establish new business contacts, gain valuable experience and consistently expand the scope of its activity.
05.06.2018
The largest trade fair for the industrial sector in Central and Eastern Europe has just begun. We invite you to visit the exhibition in 9 pavilions! ITM Poland, Modernlog, Subcontracting, 3D Solutions and FOCAST, 5-8.06.2018, Poznań, Poland. It is worth to be here!
31.05.2018
From 5th to 8th June 2018, Poznań will host the 2018 SUBCONTRACTING Industrial Subcontracting Exhibition, a prestigious event where entrepreneurs from Poland and around the world meet to look for contractors, as well as inspirations and ideas for business development.
22.05.2018
Choose subcontractors that meet your expectations. Browse the on-line offers and book the personal meetings. Subcontracting ITM Meetings (6-7.06.2018, Poznań, POLAND)
09.05.2018
The SUBCONTRACTING Industrial Subcontracting Exhibition (5th – 8th June 2018) has for a few years now featured the matchmaking meetings, a.k.a. Subcontracting ITM Meetings. Every year the number of participants who leave the event happy is growing. Last year, the event saw 322 meetings participated in by 117 people from 15 countries. Our meetings got recognition among the best events ranked by the Enterprise Europe Network.
26.04.2018
"We will participate in the Industrial Subcontracting Exhibition in order to showcase and boast about our products, establish new relations with contractors, and strengthen ties with other companies from the Cluster," says Sebastian Rynkiewicz, coordinator of the Metalworking Cluster (KOM). The benefits of participating in this event include, first and foremost, being among the best European and global companies. The fact of being together with our neighbors, those we cooperate with on a daily basis within the Cluster, gives us all bargaining power.