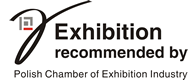 15.12.2017
The aerospace and automotive sectors are dynamically developing and Polish companies demonstrate huge potential which may be used on a large scale. That is why already on 10-11 October 2018 in G2A Arena in Rzeszów will take place the biggest meeting of representatives of the aerospace and automotive industry in Poland and Central Europe – ASA Meetings.
30.11.2017
The SUBCONTRACTING and ITM Poland project teams took an active part in the 24th Polish-German-Czech Forum of Business Cooperation, which took place on 29th November 2017 in Szklarska Poręba.
28.11.2017
The annual conference which summarizes the activities of the Enterprise Europe Network was held 20th-22nd November 2017 in Tallinn. It summed up the results of the events held by the EEN in 2016. Out of 324 events organized by EEN centers, seven best events were chosen and the methods of organizing the awarded events were given as best practices to be followed - among them were Subcontracting Exhibition along with Subcontracting ITM Meetings!
30.10.2017
We are presenting you with the latest interactive issue of Poznań Fair Magazine "Calendar of trade fair in 2018". It is absolutely unique publication onto polish market! We invite you to click!
28.06.2017
Polish industry is doing great! The numbers do not lie! The block of fairs which contain ITM Polska, Subcontracting Exhibition, Modernlog and 3D Solutions, have again attracted crowds of professional visitors and giants of the Polish and foreign industry, and is a huge event addressed to the industrial sector.
27.06.2017
Nearly 100 service providers from seven countries were present at the 6th edition of the Subcontracting Industry Exhibition, 6-9 June 2017 together with ITM Polska, Modernlog and 3D Solutions in Poznan.
26.06.2017
89 exhibitors from 7 countries (Lithuania, Poland, Germany, Slovakia, Slovenia, Hungary, Italy) demonstrated their capabilities during the 6th edition of the Industrial Subcontracting Exhibition which was held 6-9 June 2017 along with the ITM Poland Fair. This year's meeting of the industrial cooperation sector was held in cooperation with the Metal Processing Cluster (KOM) – the Polish Key Cluster. Thanks to joint efforts it was possible to prepare a valuable event which proved the potential of Polish manufacturing companies.
20.06.2017
Business meets business, everyone knows what they need, everyone knows expectations from the other side - Edita Sapeliauskiene, Business Development & Sales Director, UAB Jutrix, Lithuania at Subcontracting Exhibition and Subcontracting ITM Meetings 2017