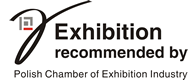 30.10.2017
We are presenting you with the latest interactive issue of Poznań Fair Magazine "Calendar of trade fair in 2018". It is absolutely unique publication onto polish market! We invite you to click!
28.06.2017
Polish industry is doing great! The numbers do not lie! The block of fairs which contain ITM Polska, Subcontracting Exhibition, Modernlog and 3D Solutions, have again attracted crowds of professional visitors and giants of the Polish and foreign industry, and is a huge event addressed to the industrial sector.
27.06.2017
Nearly 100 service providers from seven countries were present at the 6th edition of the Subcontracting Industry Exhibition, 6-9 June 2017 together with ITM Polska, Modernlog and 3D Solutions in Poznan.
26.06.2017
89 exhibitors from 7 countries (Lithuania, Poland, Germany, Slovakia, Slovenia, Hungary, Italy) demonstrated their capabilities during the 6th edition of the Industrial Subcontracting Exhibition which was held 6-9 June 2017 along with the ITM Poland Fair. This year's meeting of the industrial cooperation sector was held in cooperation with the Metal Processing Cluster (KOM) – the Polish Key Cluster. Thanks to joint efforts it was possible to prepare a valuable event which proved the potential of Polish manufacturing companies.
20.06.2017
Business meets business, everyone knows what they need, everyone knows expectations from the other side - Edita Sapeliauskiene, Business Development & Sales Director, UAB Jutrix, Lithuania at Subcontracting Exhibition and Subcontracting ITM Meetings 2017
16.06.2017
Sampo Korppi-Tommola, Sourcing Director, Biulding Systems, RUUKI Construction Oy from Finland at Subcontracting Exhibition and Subcontracting ITM Meetings 2017
13.06.2017
Valerianas Kijevicius and Beatrice Laurinkute Kijeviciene, Energetical Efficiently Technologies Cluster from Lithuania, Eko Namai at Subcontracting Exhibition and Subcontracting ITM Meetings 2017
09.06.2017
Last day of Subcontracting Exhibition is behind us. Please check out, what happened during this four days of 4 events: Subcontracting, ITM Polska, 3D Solutions and Modernlog 2017.