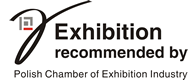 Are you offering services and searching for employers?
Do you offer subcontracting services? Are you searching for employers? Would you like to take part in individual meetings with potential clients? We invite you to take part in the fair!
Submit your application to participate in the fair as an exhibitor  at
and register for the meetings at
Specify the services and the standards you offer accurately. For the presentation purposes, we provide you with 5 different offer-type corporate profiles; for example, you can provide a separate description of your services in the field of machining, welding and powder coating.
If you commission any extra services, provide proper information in the request-type profile.
A clear description is a better chance to make new and fruitful business contacts.
Registration is already open and the timetable of the buyers is filling up quickly. The ordering parties include C.TECH France, Faurecia Automotive Poland, Fibar Group , MAN Diesel & Turbo Poland , MICHELIN POLAND,  Ruukki Poland,  SECO/WARWICK Services, Solaris Bus & Coach , UTC AEROSPACE SYSTEMS, Volkswagen Poznań.
CONTACT:
Coordinator of Subcontracting Meetings
Tel: +48 / 61 869 22 42, fax +48 / 61 869 29 60
e-mail: barbara.kaminska

www.subcontracting-itm-meetings-2018.b2match.io