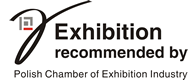 Are you searching for subcontractors and ordering services?
Free of charge register  as a VIP BUYER  at  www.subcontracting-itm-meetings-2018.b2match.io

Specify the type and standard of services you are looking for accurately.
For the presentation purposes, we provide you with 5 different request-type corporate profiles; for example, you can specify your request in the field of welding, powder coating and cutting.
Specifying the size of your order (bulk or short series), any required certificates and further technical data will help you find your partners more accurately.
REMEMBER! Before the fair you can still give up on those partners who do not match your expectations. Arrange meetings only with those who seem promising to start cooperation.
CONTACT:

Coordinator of Subcontracting Meetings
Barbara Kamińska
tel. +48 61 869 2242
e-mail: barbara.kaminska