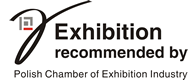 Subcontracting Meetings
The SUBCONTRACTING MEETINGS, which are international cooperative meetings, constitute a key element of the SUBCONTRACTING Fair. They are thus a great opportunity, the efficiency of which was proven during last  edition, to build permanent  relations with subcontracting tenderers as well as potential ordering parties.The cooperation meetings will be held on the second and third day of SUBCONTRACTING, ITM POLAND, 3D SOLUTIONS, FOCAST and MODERNLOG  trade fairs i.e. 6-7 June 2018 at 11.00 a.m. - 4.00 p.m.
We would like to invite to participate in the meetings:
SUBCONTRACTING exhibitors - providing subcontracting services (more www.subcontracting.pl/en)
ITM POLAND exhibitors - presenting machinery, equipment and industrial technologies (more www.itm-polska.pl/en)
3D SOLUTIONS exhibitors - presenting technologies and products for 3D printing industry (more www3dsolutions.mtp.pl/en)
MODERNLOG exhibitors - presenting tools and solutions

in the field of logistics, transport automation, software, freight forwarding and warehousing

FOCAST exhibitors - presenting technologies and products for foundy

Visitors – producers looking for new subcontractors or interested in investing in new industrial technologies
The above mentioned can participate in the meetings free of charge.
By registering you will have the opportunity to:
conveniently search for potential partners by the branch, as well as by the offers presented or by reported subcontracting demand

face-to-face meeting with potential partner
additional form of promotion of your company.
Why to look for subcontractors in Poland?
stable economy
industry with cutting-edge machinery park and qualified professionals
convenient location
competitive price
Participation in meetings is free of charge for purchasers of services and  the exhibitors of SUBCONTRACTING, ITM POLAND, 3D SOLUTIONS and MODERNLOG.
Check   the types and costs of participation