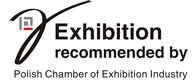 The strength of the Polish industry – the summary of the Subcontracting Exhibition 2017
89 exhibitors from 7 countries (Lithuania, Poland, Germany, Slovakia, Slovenia, Hungary, Italy) demonstrated their capabilities during the 6th edition of the Industrial Subcontracting Exhibition which was held 6-9 June 2017 along with the ITM Poland Fair. This year's meeting of the industrial cooperation sector was held in cooperation with the Metal Processing Cluster (KOM) – the Polish Key Cluster. Thanks to joint efforts it was possible to prepare a valuable event which proved the potential of Polish manufacturing companies.
Together you can do more
After a successful participation in last year exhibition, the Metal Processing Cluster  also accentuated its presence this year. 19 companies – Cluster members and its strategic partners  demonstrated their potential on 200 sq.m.
"SUBCONTRACTING 2017 was organized in cooperation with the Metal Processing  Cluster. Our potential was taken notice of and recognized. The companies affiliated within the Cluster compete on a daily basis, yet they cooperate by exchanging technologies, searching for new target markets, new marketing potential and acquiring funds for further development. This way, together we create a sort of a "Smart Super Factory 4.0," explains Sebastian Rynkiewicz, the coordinator and member of the board of KOM, adding "our companies have nothing to be ashamed of as they have lots of potential and their machine parks are amongst the best ones in the world."
The magic of meetings
Pre-arranged business meetings are already a standard during the  Poznań industrial exhibition. On the first day, the Subcontracting hall housed a meeting of the members of the Association of Manufacturers of  Woodworking Machines, Devices and Tools DROMA. It was aimed at, amongst other, establishing new contacts with potential subcontractors.
This year's edition of the Subcontracting ITM Meetings was highly popular as the two days saw 322 matchmaking meetings between particular subcontractors and buyers. The event turned international and gathered 117 participants from 16 countries altogether. This year, the meetings were participated in by representatives of such countries as Bulgaria, Czech Republic, Denmark, Finland, France, Lithuania, Germany, Norway, Poland, Slovakia, Slovenia, Sweden, Hungary, Great Britain and Italy.  The year 2016 saw 270 meetings at Subcontracting. This year, however, there were over 50 meetings and nearly 50 participants more.
Our main aim of coming to the Subcontracting exhibition was to meet new partners who could carry out various tasks for us. It is very important as in the era of the Internet choosing a subcontractor is done totally at random and chaotically in most situations. At the moment, we are meeting people who come from a particular company and who can carry out certain services for us, whom we know and this is why we want to choose them and not others. I believe the Subcontracting ITM Meetings are an effective way of meeting new partners – this is how Piotr Pankowski from Moderntrans Poznań sp. z o.o. sees Subcontracting.
A two-day cycle of discussion panels within the Speaker's Corner was held thanks to the Metal Processing Cluster. The lectures referred to activities and processes which dealt with consolidating and boosting competitiveness of the Polish subcontracting and cooperation industry. The invited guests included: Krzysztof Zaręba – Head of the Innovation Department Industrial Policy within the Ministry of Development, dr Piotr Kryjom – Head of the Internationalization Department at the Polish Agency for Enterprise Development (PARP), dr hab. inż. Tomasz Babul – Director of the Precision Mechanics Institute, Leszek Dec – Chairman of the Suwałki Special Economic Zone.
"It was an area for subject-matter discussions on such topics as practical cooperation of science and business, how to consolidate the Polish metal and machine sector and how to develop business thanks to EU funds," said Sebastian Rynkiewicz.
The strength lies in synergy
The Industrial Subcontracting Exhibition SUBCONTRACTING took place from 6 to 9 June 2017 alongside Poland's largest fair for industrial technologies ITM Poland, 3D Solutions as well as the Fair for Logistics, Warehousing and Transport MODERNLOG. These four events altogether created a professional platform for presenting all the stages of production and they were a chance to establish new promising business contacts. This year offered a possibility to get familiar with the exposition of nearly 1,000 exhibitors and companies representing 27 countries. Over the four days 12 exhibition halls together with the outdoor areas covering a total of 25,000m2 were visited by 17,893 people.
The forthcoming edition
Today we wish to invite you for the forthcoming edition of the Industrial Subcontracting Exhibition SUBCONTRACTING which will be held 5-8 June 2018 in Poznań together with ITM Poland, 3D Solutions, Modernlog and the Foundry Forum FOCAST.