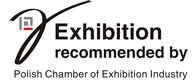 31.07.2018
Polish Economic Chamber of Wood Industry and Poznań International Fair invite for B2B Wood Meetings, which will be held during DREMA Fair, on the 12th - 13th of September 2018, in Poznań, Poland.
29.06.2018
Subcontracting Exhibition held in Poznań, Poland is definitely a meetings place for entrepreneurs, who think about the future development of their companies, look for new contacts, orders, and want to learn about modern technologies and solutions for the industry. We encourage you to watch the summary video of the edition 2018!
27.06.2018
We present You the latest issue of Poznań Fair Magazine. We invite You to read both its paper and online version. In this issue we present the distinguished guests who visited Poznań International Fair in the recent months, provide reports on the spectacular fair and events, and present Arena Hall, which joined the group of objects managed by the Poznań International Fair. And moreover…
More news
---

SUBCONTRACTING: Next edition: 5-8.06.2018
.