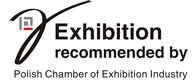 14.02.2019
Industrial Subcontracting Exhibition shows how important cooperation, not rivalry, in business is. Every edition of the trade fair has seen visible growth, both in terms of how keen the visitors are and how involved the exhibitors are, which is evidenced by the ever-growing exhibition and service offerings.
05.02.2019
Simultaneously held events, such as ITM Poland INNOVATIONS-TECHNOLOGIES-MACHINES, the Modernlog Logistics, Warehousing and Transportation Fair, the Subcontracting Trade Fair and as well as 3D Solutions 3D Printing and Scanning Fair. Together, these four events form a block of industry-facing fairs in Poznań. Their purpose is to take a holistic view of industry as a branch of the economy that has a huge potential to change our reality by giving many sectors the opportunity to interact with each other.
15.01.2019
As the situation in particular sectors is becoming more and more complex, internal resources are not sufficient to maintain constant competitive advantage (especially in small and medium-sized companies). Therefore, cooperation within the business network in the broad sense is becoming more and more significant. That is what is offered by participation in Subcontracting (4-7.06.2019, Poznań). It allows you to gain access to information, resources, market, technology and consequently contributes to reducing or spreading the risk, outsourcing part of the value creation chain, shortening the time of launching goods (services) on the market, increasing the use of resources, acquisition of skills or knowledge.
More news
---

SUBCONTRACTING: Next edition: 5-8.06.2018
.